Recently, the province I am living in has been gearing up for an election. Gyeonggi-do Province surrounds Seoul like South Africa surrounds Lesotho, or like Senegal surrounds the Gambia. I'm not sure why they set it up that way but my guess would be that its something to do with the population.
This election business has been pretty intense but not in the way that American elections are intense. The candidates, instead of paying for TV spots where they trash their opponents, pay middle-aged people to dress in their colors, dance, and sing their election theme song on every street corner possible. I call it the Disney Campaign Strategy.
Here are some pictures to help you visualize:
I was in the main square of Suji shamelessly taking pictures. Normally, I try to be cool about it but it has recently come to my attention that if you try to be cool about taking pictures, you never get the good ones. You have to make a spectacle of yourself and get in people's way to get good pictures. So I was there, in everyone's way taking pictures when this dude grabbed my arm and dragged me into the line of dancers. He took my camera and gestured for me to dance. And so I did.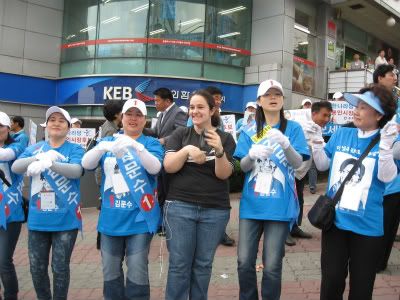 On the other side of the street, there was a rival gang of dancers from another candidate. I was really hoping for a rumble of West Side Story proportions. Alas, it never did happen.
Here is one candidate making his speech with what seemed to be his drinking buddies cheering him on from behind me. They had a chant all worked out and everything.
Of course, you can't have a scene of this level without adding a couple mascots in there.
Later on, another gang of dancers showed up.
One of the dancers posing for me. She was very helpful and wanted to explain that this was all because of the election.